Tactics Separates Europe's Giants As Group Leaders
With two of Europe's most historic teams, Barcelona and Milan, set to battle it out on Wednesday evening at the San Siro, it will be a game of passion, pride, history and above all tactics.
With seven titles to Milan and four to Barcelona, there will be little separating the two squads. Having met on 12 previous occasions each team has four wins to their name, as well as having shared the spoils on four different occasions.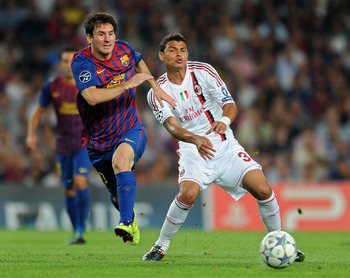 For the teams qualification has already been signed, sealed and delivered, having seen them along with Real Madrid, as the first three teams to ensure a spot in the round of the last sixteen.
All that remains now is the battle for top spot in Group H, a spot that both Pep Guardiola and Massimiliano Allgeri will be keen to possess in order to avoid the likes of Real Madrid, Bayern Munich, Inter and Chelsea.
Ahead of Wednesday's match Milan coach Allegri admitted that it will be a tactical affair at the San Siro where they will 'have to do more and better than we did in Barcelona.'
For the Rossoneri there are few doubts or worries over the player's fitness and the starting line-up: with just Antonio Cassano and Gennaro Gattuso as notable absences from their long injury lay-offs.
The home side is expected to field their traditional formation of 4-3-1-2, which will see Zlatan Ibrahimovic used as an assist man to Alexandre Pato.
With the Swede playing a deeper role, Pato will be given more freedom to move in and around the box, a factor on which he thrives. In addition, this will see Ibrahimovic act as a decoy in his runs by pulling the likes of Javier Macherano aside, freeing up the Brazilian and allowing for Kevin-Prince Boateng to push forward from his 'trequartista' role.
The midfield will line-up the well rested Mark Van Bommel and Antonio Nocerino while Clarence Seedorf and Alberto Aquilani will battle it out for the final spot. The backline will see Ignazio Abate, Alessandro Nesta, and Thiago Silva with the left-back position still remaining in doubt.
"In some moments on Wednesday, we'll have to have the patience to deal with their ball possession but that's nothing to be ashamed of. Up front won't only be up to the forwards but to the whole team.
"We'll have to improve our defence compared to how we did at Barcelona and that'll be up to the while team," Allegri.
In the first leg at the Camp Now, which ended in a 2-2 draw, the Rossoneri often lacked the ability to gain a good run of possession but their man-to-man marking and the closing up of spaces on Xavi and Andres Iniesta, saw Barcelona fail to grab a good hold of their famous tika-taka possession and passing play.
At the San Siro they will be expecting to line-up a 4-3-3 formation.
Carlos Puyol is set to start at right-back due to Dani Alves' suspension and Adriano's injury, which will see Gerard Pique and Mascherano partner each other in the centre.
Kieta will take the role of the holding player, in which he will try impede the threat of Boateng and Seedorf or Aquilani, while the creative minds of Xavi and Cesc Fabregas will be utilized due to Andres Iniesta's untimely injury.
Van Bommel will be Milan's first line of defence in which he will seek to disrupt the buildup play of Pedro, David Villa, Querca or Alexis Sanchez in providing Lionel Messi with the ball.
In a high profile match where tactics is what separates the winners from the losers, and the greats from the average, it will be a highly contested battle that will bring about passion, flair, a vintage style of play between two of Europe's finest.
With each team itching for top spot, the battle between Spanish and Italian tactics will be put to the test, where technique on the field will be the only thing separating each team from being group leaders.