Mihajlovic Showing More Good Than Bad
When Milan announced the appointment of Sinisa Mihajlovic as the new coach, there were many mixed emotions among the Rossoneri faithful… and rightly so. How could a team like the Rossoneri hire an Inter legend as the new head coach? For many Milanisti, uttering the Serbian's name in the same sentence relating to Milan almost seemed blasphemous, but as weeks have gone by, an air of hope has started to swirl around Milanello.
Still, it wasn't all smiles and spritz glasses clinging together in approval though. One of the biggest blows was when Milan lost out on two transfers in the shape of Geoffrey Kondogbia and Jackson Martinez.
For the fans, both players were considered to be great additions to the team, despite hesitancy on the sale figures. Milan were said to be ready to fork out the €35 million sum placed on the Colombian striker's release clause, while Kondogbia's price tag had risen to €40 million.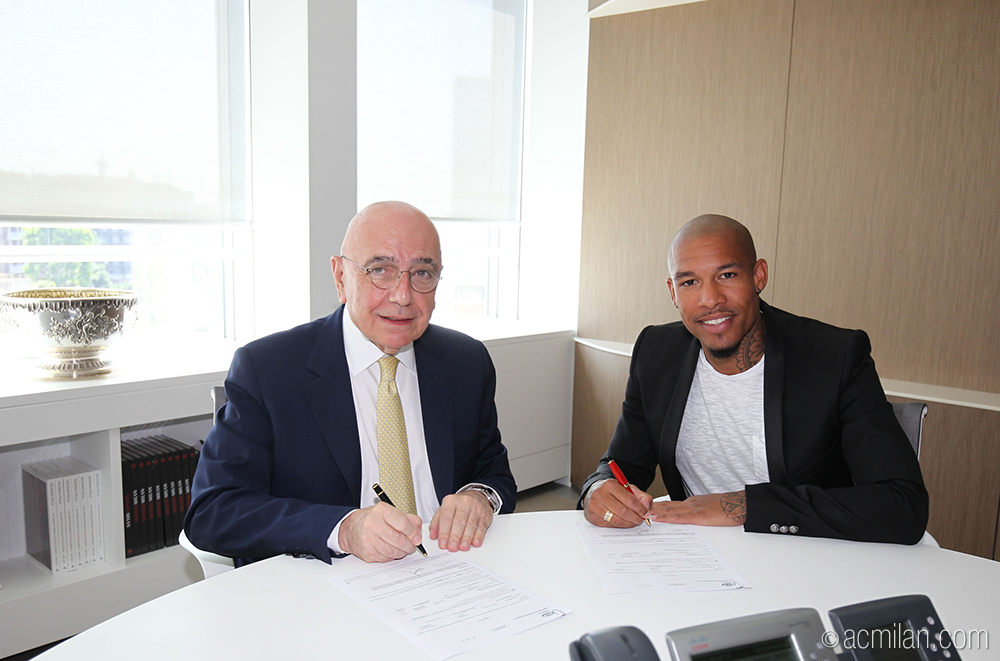 It was almost seemed too good to be true, all that was missing were the official statements from the players' respective clubs to ensure they were to be in a Milan kit next season. However, a sudden twist in the tale saw archrivals, Inter; swoop in for Kondo, while Martinez made a move to Atletico Madrid.
From elation to desolation, there was an evident sense of anger among members of the Curva Sud that management had let the team and the fans down once again. If the team couldn't sign players, how were they going to win games?
It wasn't a pretty picture but things swiftly turned around with the arrival of the silver fox…
"This is a club that has an enormous history. I am not part of the Milan history, so I thank the club for the faith in me," he said in his official unveiling at Casa Milan. "It has been a couple of difficult seasons for Milan and I want to take them back to the top. The club are working very hard on the transfer market."
And so they were, the grey-haird tactician immediately implemented change by getting rid of the deadwood in the club. Sulley Muntari, Giampaolo Pazzini, Valter Birsa, Michael Essien, Mattia Destro, Salvatore Bocchetti were all let go, including Daniele Bonera, who saw his nine-year spell with the Rossoneri come to an end.
He then succeeded in convincing Milan's star midfielder, Nigel De Jong, to pen in an extension at the club after months of being linked with a move to Manchester United, before manging to secure the services of promising Azzurrini midfielder, Andrea Bertolacci, for a pretty penny of €20 million from Genoa.
A double attacking swoop was made in the shape of Luiz Adriano (Shaktar Donetsk) and Carlos Bacca (Sevilla) for a total sum of €29 million, and while that was all happening, Parma's Jose Mauri was waiting in the wings on the verge of putting pen-to-paper for a four-year deal with the Rossoneri.
In just four weeks, Mihajlovic had made more drastic and essential changes at the club than what management had failed to do in five years. Suddenly, the team was starting to look formidable again…
"Milan have always been a side to be feared and I want that Milan side back. I want my Milan team to instill fear in other teams and make the San Siro a fortress again," the 46-year-old said. "We will be like our motto; a team of devils, red like fire and black like the fear we will instill into our opponents. I am convinced that we can achieve good things this season."
Mihajlovic's refusal to take no for an answer, coupled with his stern personality in knowing what he wants, has seen him silence the critics more often than not.
His instance that the players all eat together twice a day, wear shin guards in training and that all phones are banned while training is in process may have stirred up debate, but with Milan having lacked all forms of discipline last term, this may be the harsh treatment they require.
Another area that skeptics still tend to direct their focus towards is that of the backline. The extension of Philippe Mexes early last week saw eyebrows rise out of pure shock and disapproval, but the Frenchman's stay could largely be due to the club's lack of defensive signings.
Milan's backline suffered terribly last season. Falling guilty to a massive 50 goals conceded – the most in their last four seasons – many had dubbed the defence the first port of call in the transfer window. But if the way any of Mihajlovic's previous teams played was anything to go by, it would be clear that the set-piece master lays emphasis on the saying: 'a strong defence is a good offence.'
This has largely been reflected in the transfers he's secured in his stint at Milanello so far…
Both Bertolacci and Mauri have been brought in to help feed through the ball around the field, and act as last year's missing link between defence and attack. Their ability to pass the ball around delicately, boss play, make intricate touches, create and score goals, as well as being disciplined in their practice is the exact profile of player Mihajlovic enjoys in his team.
Set to partner up with the muscular De Jong and/or Andrea Poli or Riccardo Montolivo in midfield, along with strong presence and pace upfront of Bacca and Luiz Adriano, there is already an improved sense of stability in the squad in comparison to the team Pippo Inzaghi fielded.
Just a few weeks remain until the new season kicks off and it has become evident that Mihajlovic has a vision and project in mind. As a man who knows what he wants and goes for it until he gets it, one can be assured that the former Fiorentina tactician isn't done just yet in the transfer market.
It's still early days, but for now it seems that things are on right track ahead of the 2015/16 Serie A campaign. Although, who would have thought it would have taken an Interista to get Milan kicking again?