From Rome To Milan, Romagnoli Follows The Path Of Others Before Him
Like many before him, Alessio Romagnoli finds himself following in the footsteps of several great defenders who left the city of Rome to play for the red and black part of Milan. The likes of Alessandro Nesta, Cafu, and Jaap Stam all left the Eternal City in hope of finding Eternal Glory with the Diavoli, and for the 20-year-old defender, he lives in the same hopes these legends once dreamt about.
Having turned away interest from English giants Arsenal and Chelsea, the former Roma youth product wasn't short of suitors, but his eagerness to stay in Italy and further develop his game has shown a certain sense of maturity about him.
"It is all very exciting for me, I am at the biggest and most successful club in the world. Now it is down to me to do well," he said after completing his medical with Milan.
It was just last season where Romagnoli enjoyed a breakout campaign in Serie A. Having previously enjoyed a few cameo appearances with Roma, it was under Sinisa Mihajlovic's guidance at Sampdoria where he started to become a household name.
Turning out 30 times and scoring two goals for the Rossoblu, Romagnoli looked constantly composed and confident with the ball at his feet. His elegant style of play and precocious nature has often seen him compared to that of the Rossoneri's legendary defender, Nesta.
In fact, Romagnoli will be donning Nesta's famous jersey number 13 this season after having been told that he wasn't allowed to wear the number 46 jersey in honour of his idol Valentino Rossi – who is an Interista.
"I don't know if I will choose the number 46 jersey, if I can I will choose the number 13. I am really overwhelmed by the comparisons with a great player like Nesta, but to become like him a lot of work is needed," added the centre-back.
Nesta joined the San Siro giants from Lazio at the age of 26 back in 2002; where he went on to win 10 club trophies and form part of a historic Milan team in his decade spent at Milanello.
While it is only natural to compare Romagnoli's abilities to that of the 2006 World Cup winner, it is rather unfair to put such a weight of pressure on the youngster's shoulders.
So many players have made the switch to Milan and have crumbled under the pressure of being compared to that of Paolo Maldini, Andrea Pirlo and Nesta, so it's only right that Romagnoli is given the space and time needed to find his feet at the club. This is where Mihajlovic comes into play…
With the Serbian tactician famous for keeping his players grounded, all while instilling belief in them, the 50-year-old will surely exercise caution when using the €30-million defender this season.
Players like Francesco Acerbi and Adil Rami may have previously failed to live up to the history of the number 13 jersey, but this time Nesta seems positive that Romagnoli could be the right successor for the kit.
"My thoughts on Romagnoli. I have seen little of him but I think he is a prospect that can turn out to be a great player. Best of luck!" he wrote on his official Twitter account before saying. "And the Romans have always done well in Milano."
Alongside Romagnoli, the 39-year-old former Montreal Impact man isn't, of course, the only defender to have left the Italian capital to ply his trade in Silvio Berlusconi's team. This uncanny trend created by Nesta has seen a highway paved in red and black stripes built directly from Rome and Milan.
Brazil legend, Cafu, left Roma in 2003 to slot into Milan's backline, and in that same year Giuseppe Pancaro left the Giallorossi's neighbours, Lazio, to form part of a strong Carlo Ancelotti outfit.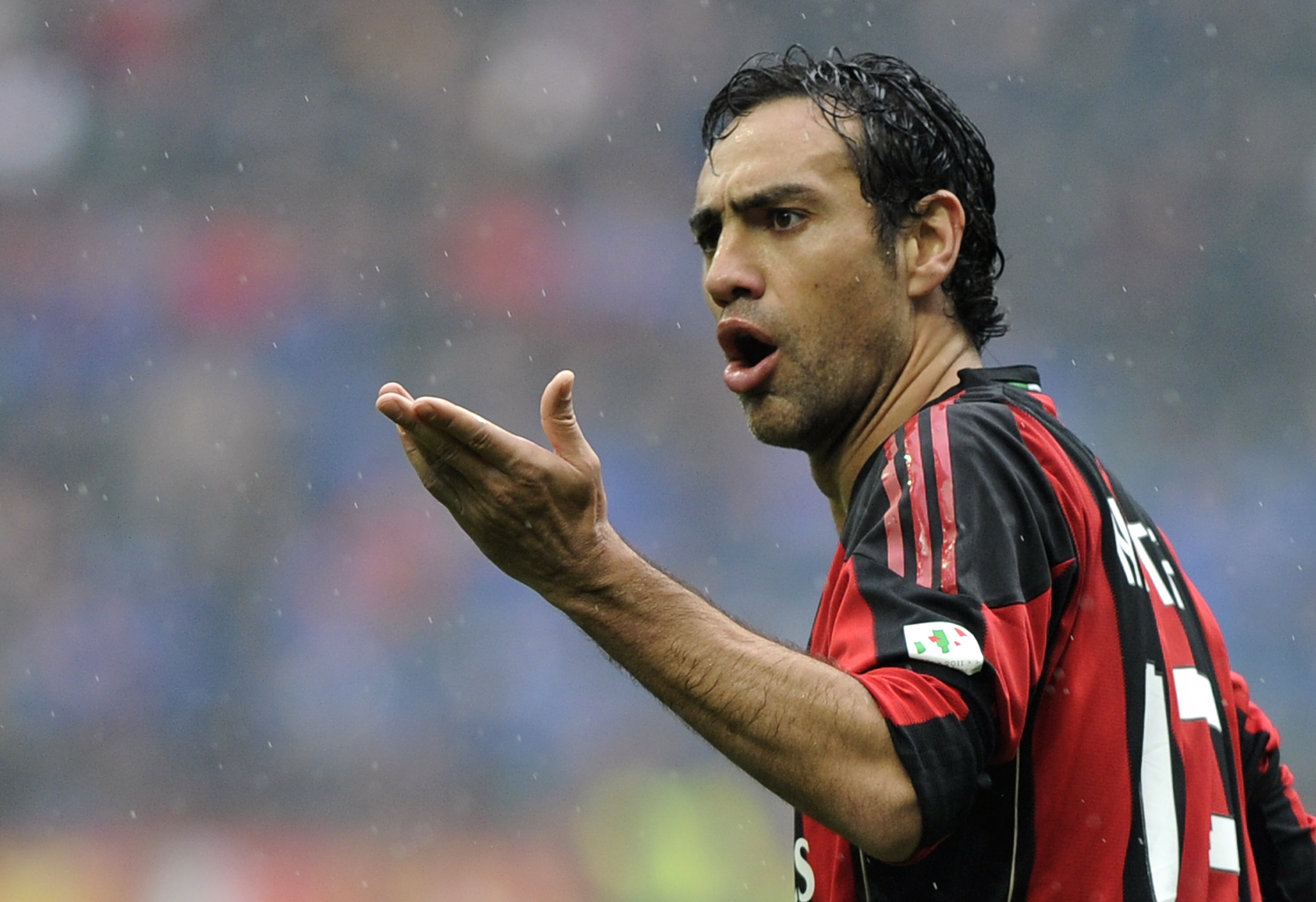 The following three seasons saw Jaap Stam (04/05) and Massimo Oddo (06/07) arrive from Lazio, with the two going on to also instill themselves in the successful history books of Milan
Philippe Mexes is probably the most controversial name on the list. In his four years at the San Siro, the Frenchman has been guilty of making many silly errors, has spent many matches in the stands due to unnecessary suspensions, but he has also contributed with some world class goals. And now he is expected to play alongside the new number 13.
Upon reflection, an impressive 26 trophies were shared between all six defenders, and the history of these past successes will undoubtedly bode well for Romagnoli, who will use their stories as an inspiration to kick-start his career at the San Siro.
The left-footed center-back may be wearing Nesta's old shirt, may stand as tall as his predecessor, and may have similarities to the Rossoneri and Azzurri legend, but only Romagnoli can write his own story in the famous red and black book.
The only down side to his transfer is that Romagnoli has no real role model like Franco Baresi, Maldini or Nesta to learn directly under, making the transition that tiny more difficult. Still, hope is what fuels dreams and if his aspirations stay alive, eternal glory will follow. Time will tell.