Positives & Negatives From Milan's Derby Defeat
Sinisa Mihajlovic may have lost his first Derby Della Madonnina while on the Rossoneri bench, but there is more to the story than just the 1-0 scoreline. From Mario Balotelli having added an injection of life to the team to Keisuke Honda still unable to convince, there are a number of positives and negatives that can be taken from the 214th edition of the derby.
Romagnoli Continues To Impress
While he may have given away a penalty in the opening Serie A match against Fiorentina, Alessio Romagnoli didn't cave under the pressure of a big occasion. Looking calm and composed throughout the game, Romagnoli held strong, even pulling off a crucial interception to Inter into the box. It was the first derby in a while in which Milan looked sturdy defensively.
His Derby In Statistics, According To WhoScored:
After spending a year wasting away at Liverpool, Balotelli's super status had been revoked due to his poor form. The 25-year-old was introduced into the game just after the hour mark and his presence saw the team's mentality and movement immediately shift for the better. Still not at full fitness, great things are expected of Balo if he continues to display the passion he did before, during and after the encounter. It wasn't even evident that his last competitive game was back in April, as Balotelli came inches close to securing a point for Milan with his bullet, which struck the upright with potency.
His Derby In Statistics, According To WhoScored:
An Increased Mental Approach
Since Carlo Ancelotti's exit from the team, the mental approach of the club took an overall decline. There was an evident lack in discipline and more often than not the players had a tendency to give up than fight for a point. Mihajlovic has turned this around by cancelling out the overreacting on fouls, and by ensuring that the players stay concentrated for the full 90. Even after Inter went 1-0 up, the players remained united and Balotelli didn't let Felipe Melo's provocations get the better of him.
This was evident in the way they commanded possession - 51.4% of it. They also managed an 80% success pass rate, and bettered their cross-city rivals in dribbles and aerial duels too.
Honda & Luiz Adriano Dispossessed
Last week's hero, Luiz Adriano, took a turn for this week as he struggled with being decisive in his touch. He was often seen unsure of when to pull the trigger, and he was dispossessed a total of five times during the encounter.
Similarly, Keisuke Honda was in the same boat. The Japanese international didn't look settled playing as a 'trequartista', and he often found himself losing possession easily or failing to make his set-pieces threaten Inter's backline.

In total, Milan were dispossessed a total of 19 times to Inter's six.
Adriano's Derby In Statistics, According To WhoScored: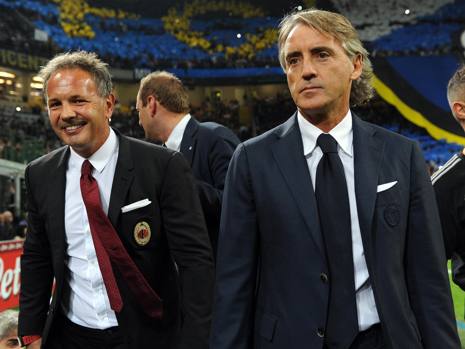 Honda's Derby In Statistics, According To WhoScored:
The Lack Of Set-Piece Threat
Mihajlovic was a set-piece master during his day, and since Andrea Pirlo's exit from the team, there hasn't been a player who has threatened week-in-and-week-out when it comes to free-kicks. Honda is considered as Milan's natural set-piece taker, but he has failed dismally in this department. His routine method is to float it into the box in hope of a player heading it past the opposition's 'keeper, but there has been a lack of menace from his efforts. As a team coached by Mihajlovic, there needs to be an improvement in this department.
Milan may have been denied of a point, at the very least, but the overall performance of the team was a positive one that will certainly bode well for the overall confidence of the team. Slowly but surely Mihajlovic's methods are starting to creep in…