Will Leonardo Be A Threat?
As we all know Benitez has been shown the door by Moratti. Was it inevitable? Why yes! The poor league performances and shocking displays in the Champions League left Moratti with no reason but to let Spaniard go. But was the arrival of one of the most faithful and respected Rossoneros around obvious? No!!
Rumours had done their various rounds but no one would have expected Leonardo who is loved by all to cross the boarder- which few Milanisti dare tread- to take on the position as Inter coach and try to lead them to success.
No, no one would have thought that the loyal, faithful and highly loved Leo would have accepted a job from Inter. Despite parting ways with Galliani on bad terms surely Leo's love for the side had not diminished? After all it is just Galliani. If anyone let's that balled headed man with more egos than Ibrahimovic get under his skin then there really is no hope.
Many feel that Inter's courting of Leonardo had to do with trying to gain revenge on Milan for signing Ibrahimovic. Hate to break it to you Moratti but Ibra will win Milan titles not Leonardo. Call me bitchy but you got to look at the facts.
Despite Leonardo finishing 3rd with Milan in his first season as coach the Brazilian still lacks the experience. Not only is he expected to improve the Nerazzurri's current position in the log but he is also expected to win titles. Not to mention he has the added expectations of the fans as defending Champions.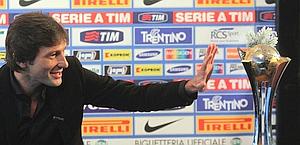 Leo struggled under the pressure at Milan how will he cope with the ever temperamental Interisti?
In addition, despite Benitez's disappointing string of results over the past two years he still managed to win some titles with Liverpool and he isn't all as bad as the fans make him out to be. But if Benitez, with all his experience dealing with moody fans, big player ego's and horrible management couldn't cope at Inter I somehow doubt Leonardo will.
So as a devouted Milan fan and a firm admirer of Leonardo I find it hard to be totally upset at his move to Inter. Should he win with the Nerazzurri that would be a different case but I have a distinct feeling success will not be on the cards. Though I am not happy with seeing one of my all time favourite Milan players wearing the blue and black strip of Inter.

This leads us to the inevtible question of: Is Leonardo really a threat to Milan and their title race for the title. I think not but time will only tell...