South Africa, You Did it!
When South Africa was awarded the opportunity to host the first FIFA World Cup in Africa many doubted that the developing country would be able to pull off one of the world's biggest sporting events.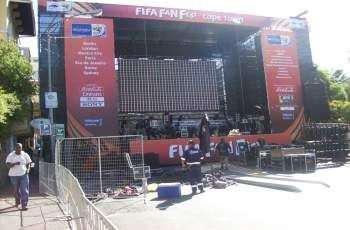 Speculation and doubt was at an all time high, along with constant debating between FIFA, SAFA and South African citizens, while a mad rush for the new stadiums to be completed was a cause for concern. Nevertheless, disputes were finally settled, the stadiums were completed, roads were upgraded along with public transport facilities, new busi
nesses were created and a whole spectacle for travelling fans was waiting to be explored.
As the world Cup reaches
its final stage Saturday and Sunday it is now safe to say that South Africa has pulled off one hell of a tournament. The stadiums are a sight to behold, access to and from the stadium is fluid and efficient as the park and ride/walk facilities were put into good use.
The fans parks with top South African bands and m
usical artists were beyond successful as hordes of fans from all over pulled through to watch the games throughout the day. While the cities were painted in the various colours of the flags.
Tourists looked like they were having a blast mingling with locals and other foreigners. The mass swarm of tourists brought about a nation, so often divided, to become united for (at least) one full month. Not to mention the crime right has dropped substantially since the June 11.
So often South Africans fail
to acknowledge each other but the festival of football saw the people looking at each other in the eye and smiling, people embraced each other and welcomed each other.
Above all the football has been amazing; seeing this World Cup a tournament of surprises. Few could have predicted France and Italy to bow out so early, nor would they have predicted the failings of Ronaldo, Rooney and Messi after the successful seasons they have had with their respective clubs.
Moreover;fewer expected that they would see the day when two finalists have the opportunity to win the World Cup for the first time.
The goals have been world class, the refereeing decisions shocking, the results unpredictable and unknown stars have been born.
Well Done South Africa, YOU have done it. An all round successful tournament, which has seen the uniting of fans and locals, businesses boom, and above all you have put South Africa on the International Map. What a privilege it has been to live in the country during the World Cup.